Honolulu Planning Dept. ADU Info Sessions at Capitol ADU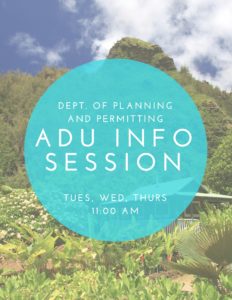 The Honolulu Department of Planning and Permitting will be leading information sessions this week outside the demonstration ADU on the Capitol lawn (corner of Richards St. and S. Beretania St.).
Dates and times:
Tuesday, April 11 at 11 a.m.
Wednesday, April 12 at 11 a.m.
Thursday, April 13 at 11 a.m.
The public is invited to attend. It will be helpful for homeowners or construction professionals who have questions about ADU rules or permitting.
Invite your friends to the event on Facebook!